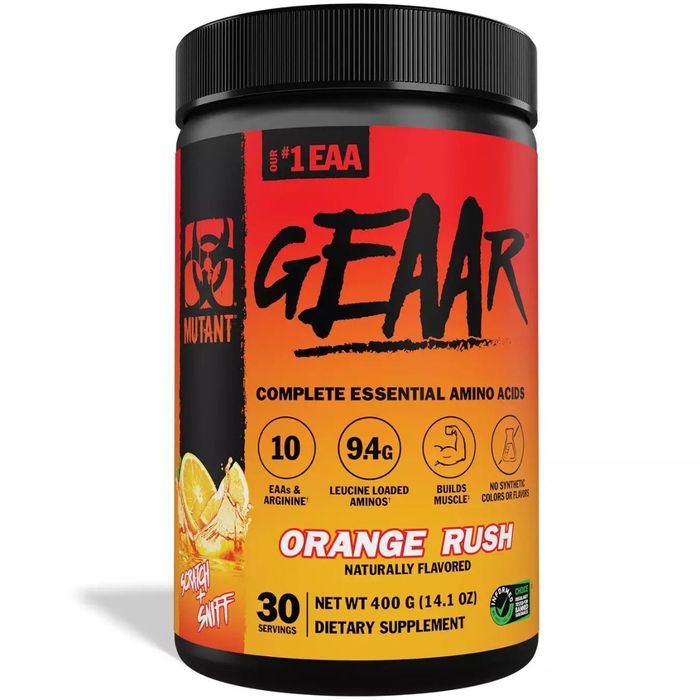 Mutant Geaar Essential Amino Acid
Mutant Geaar Essential Amino Acid
Complete Essential Amino Acid
Nutritional information
Nutritional Information: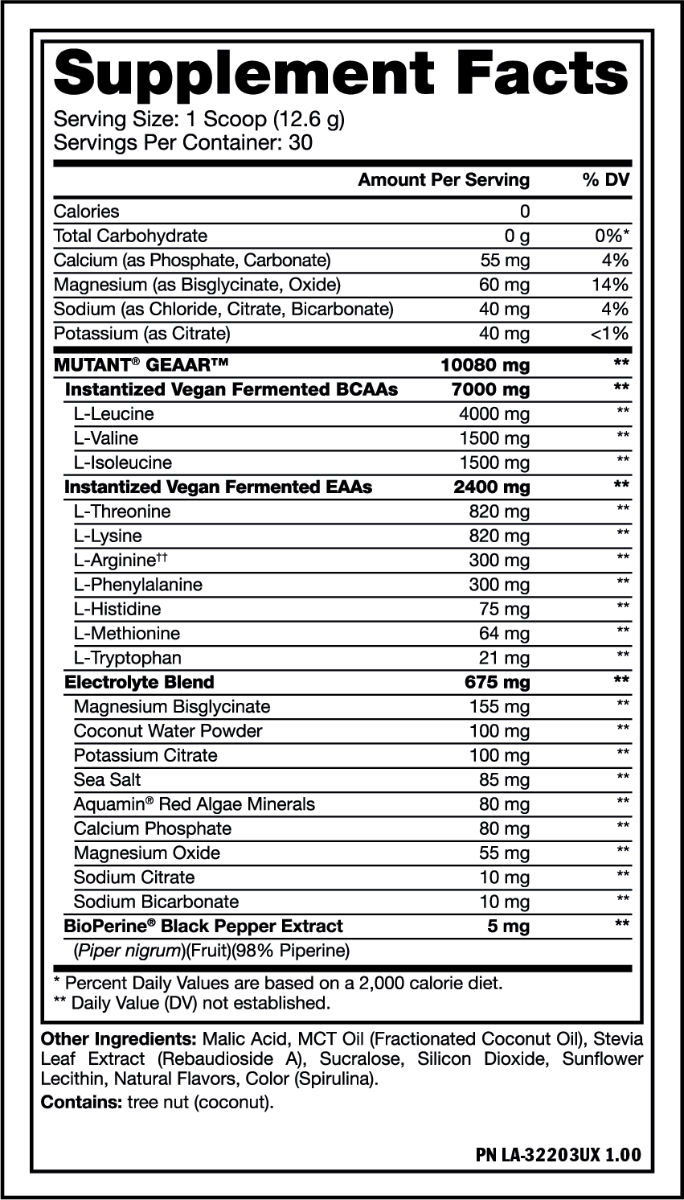 Please note: nutritional information is to be used as a guide only, actual values may differ between flavours and sizes and when formulations are modified or updated by the manufacturer. Contact us if you are have any questions regarding this products ingredients.
Product Information
Mutant GEAAR is a complete essential amino acid supplement.
Supports Muscle Growth & Recovery
Leucine Loaded - 4 g Clinical Dose – Highest Dose of Any EAA, Metabolized into HICA & HMB for Anticatabolic Effects, Activates mTOR = Increase Protein Synthesis
9.4 g EAAs + Arginine - Increases Requirement During Overtraining & Dieting, Increases Insulin, Nitric Oxide & Nutrient Delivery
7 g BCAAs (8:3:3) – Highest Dose of Any EAA
Fermented/Vegan Aminos (Micronized & Instantized)
Science Says You Need All 10
Clinical research has shown that 9 essential amino acids (EAAs) plus arginine are needed to build muscle and increase recovery. Very few EAA supplements contain arginine, which is a conditionally essential amino acid (CEAA) needed during overtraining and prolonged dieting, but it also increases insulin and nitric oxide and helps shuttle amino acids into muscle. GEAAR was formulated with 9.4 grams of EAAs plus arginine, 7 grams of BCAAs and 4 grams of leucine. GEAAR is also stacked with natural electrolytes to maximize performance and made with no artificial flavors, colors or dyes. With over 10 grams of active ingredients in one scoop, GEAAR is the most complete EAA supplement commercially available.
Electrolyte Loaded
There are 7 electrolytes in your body (sodium, potassium, chloride, calcium, magnesium, phosphate and bicarbonate), which are involved in contracting muscles, regulating pH levels and keeping you hydrated. GEAAR contains all 7 electrolytes from coconut water powder, sea salt, ALBION® magnesium bisglycinate and AQUAMIN®, a patented deep ocean red algae mineral found in Iceland.
No Synthetic Colors. No Artificial Flavors
GEAAR is made from vegan fermented amino acids with no synthetic colors or artificial flavors. GEAAR uses only natural colors and flavors to create its freakin' delicious taste!
Drug Tested by Informed-Choice
As an added commitment to our quality control, MUTANT has formed a strategic alliance with Informed-Choice to independently lab test our products for banned substances. All MUTANT supplements that carry the Informed-Choice logo are banned substance tested. The standard supplement screening test covers over 200 banned substances prohibited in sport. If it's not on our label, it's not in our product!
Better Absorption
GEAAR contains no binders or fillers and is 100% instantized for maximum solubility. MUTANT researchers also included 300 mg of arginine which helps trigger Nitric Oxide (NO) production for superior vasodilation effects, enhanced blood flow and nutrient delivery!‡ GEAAR also contains BioPerine®, a patented compound clinically proven to enhance nutrient absorption by up to 25%.
SERVINGS:
Container: 378g
One Serving: 1 Scoop (approximately 12.6g)
Servings Per Container: 30
Delivery & Returns
Spend over $70* to qualify for free standard shipping via CourierPost.
Orders under $70 are charged a flat rate of $3.99.
Bulky & heavy items are charged based on weight and delivery location.
Estimated delivery times** once your order is dispatched (Monday-Friday)
Auckland - overnight delivery
North Island - overnight delivery
South island - overnight, or 2 days with economy (for larger parcels)
Rural addresses - will take longer than the above stated timeframes
*Excludes bulky items which are charged based on weight
**During sale and holiday periods dispatch delivery will take longer with larger volumes of orders. If you need your order in a hurry, select one of our upgrade options.
No deliveries on weekends and public holidays.
---
Pace Evening Express - Auckland & Wellington
Order before 10:30 am for Wellington and before 2:30pm for Auckland deliveries Monday to Friday (excluding public holidays) and your order will be delivered between 6-9pm that evening. This shipping option will only be displayed for valid addresses at check-out.

If ordering on the weekend, your parcel will be shipped the next business day for delivery that evening. If there is no one home to sign for the parcel or it can't be left in a safe place, your parcel will via transferred to the depot for standard NZ Post delivery.
---
South Island Overnight
Order before 3:45pm to qualify. Valid weekdays, rural addresses will take longer. No deliveries on weekends and public holidays.
---
Priority Dispatch
Jump the queue and ensure your order gets packed and dispatched ahead of the pack for $10 (Sunday-Friday). Your order will be prioritised by a dedicated team member for dispatch. Delivery is via CourierPost standard delivery - signature required (this is not express shipping). This option is great during sale and holiday periods when we have high volumes of orders.
---
Click and Collect - Auckland only
Order online and collect your order from your preferred collection point. Please allow up to three working days for your order to be available for collection. We will contact you when it's ready.
---
Bulky items
Bulky & heavy items are charged based on weight and delivery location. Items such as gym equipment will be shipped via our freight forwarders and will take longer to deliver due to the size of the goods being shipped. These items are unable to be freighted via plane. Unfortunately as these are manual bookings it is not always possible to provide tracking numbers. If you require an update on the shipment of a bulky item, please contact us at sales@nzmuscle.co.nz with your order number.
---
Returns
In the event of receiving damaged, faulty (where faults not disclosed) or incorrect items, please send photos of the issue and your order number to sales@nzmuscle.co.nz within 7 days of receiving your order. Items marked Final Sale are unable to be returned.
Please refer to our Returns Policy for further information.
---
FAQs
For any other questions, please refer to our FAQs