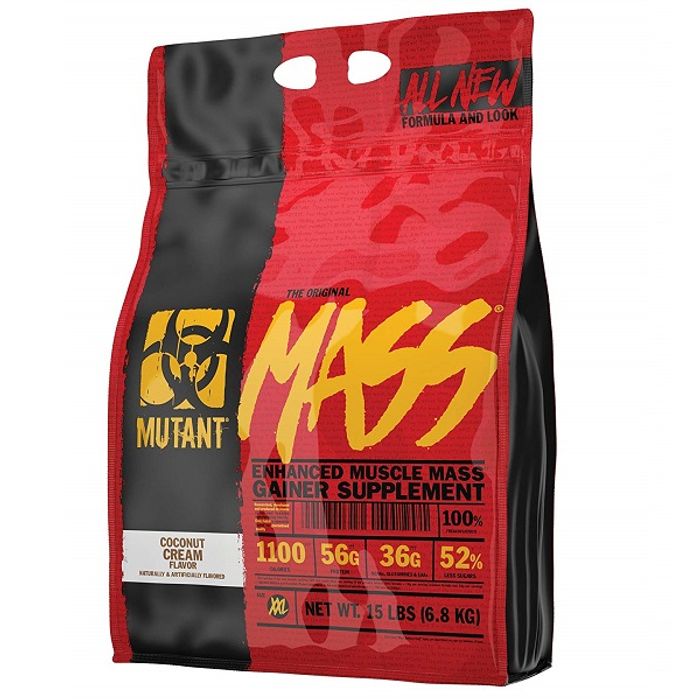 Get Lean, Huge & Muscular
Nutritional information
Nutritional Information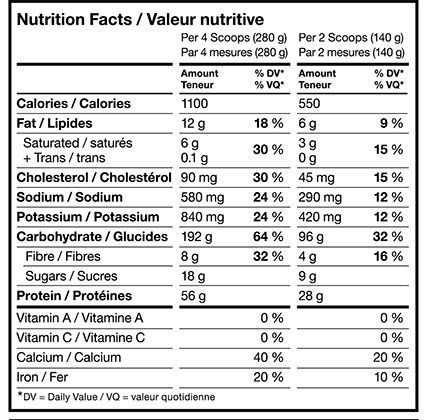 Please note: nutritional information is to be used as a guide only, actual values may differ between flavours and sizes and when formulations are modified or updated by the manufacturer. Contact us if you are have any questions regarding this products ingredients.
Product Information
This is the ULTIMATE lean gainer you've been waiting for! MUTANT MASS is a serious formula, designed with only hard working athletes in mind, who demand power, absolute size and all out strength. If you are serious about gaining slabs of lean muscle mass, faster than ever, then MUTANT MASS is the answer.

MUTANT MASS – THE SCIENCE
MUTANT MASS was developed over 2 years of research and is based on sound, proven science. More importantly though, the finished MUTANT MASS formula was also tested in the gym, where it was put through its paces by real life bodybuilders and strength athletes. The results? If you add just 1 serving of MUTANT MASS per day to your routine, you can add up to 5lbs of fat free muscle in just the next 14 days, increase your bench press by 10-20lbs and boost your chest size by 2.5 centimeters (1"). That's not rocket science - that's just MUTANT MASS doing its' amazing job.

How does MUTANT MASS(TM) Work?
92% of all weight trainers never gain the mass they want. Mutant Mass was designed specifically to address this one, solitary need - pure added mass. The formula is light years ahead of what is currently available in weight gainers. OTHER gainers are mostly high sugar and high lactose simple blends of sugar and cheaper milk or whey proteins - MUTANT MASS went all out to create the ultimate weight gainer!

Why do I need different proteins?
The 10 superior proteins deliver a vast cross spectrum of amino acids for triggering MORE muscle uptake. This trademarked blend is designed to "push" more usable protein into the muscle and showers your muscles with a continuous flow of free form, di, tri and oligo peptide amino acids from protein. 92% of those trying to gain lean mass who are having trouble, usually cannot gain muscle because they're using the wrong proteins. ISO-STACK10 is perfect, but when blended with the specific carbs and lipothermic fats in MUTANT MASS, the protein is directed to its primary job - building pure muscle.

I know protein builds muscle – so why do I need carbs and fats?
Muscle tissue is almost all protein. But when you are training hard and trying to add slabs of strong, sinewy muscle, you have to make sure the protein ACTUALLY gets to the muscle! For that majority of people having problems putting on mass, valuable protein is being wasted and used up for energy BEFORE it can even get to the muscles. To fuel your body's energy demands, you need adequate sources of real fuel – carbs. MUTANT MASS' 3:1 carb to protein ratio delivers the optimal ratio for building hard muscles fast. Your body gets the fuel (carbs) it needs for energy, while allowing the protein to get delivered to the muscles fully intact. And by using the ISO-STACK10 blend of 10 superior timed release proteins, you're delivering a timed release total gainer matrix; carbs first for energy and protein right afterwards for pure muscle building. You will feel the difference MUTANT MASS delivers.

How good is MUTANT MASS?
In a real world test, 23 experienced weight trainers used MUTANT MASS for 10 days and the results were:

96% liked the taste!
Average weight gain in just 10 days was 3.7lbs!
92% reported increases in bicep AND chest measurements!
87% reported reduced bodyfat.
92% reported increased energy.
87% reported they felt their muscles were 'tighter' and stronger!
100% would recommend it to others wanting to add LEAN mass!
Directions:
Mix 2 or 4 scoops of Mutant Mass with 16-32 fl. oz. (480-960 ml) of water, twice a day; drink one shake first thing in the morning and the second immediately after training, or whenever you want an extra shot of protein.
Servings:
Container: 5 Lbs
One Serving: 2 Scoops(140g)
Servings Per Container: 18
Container: 15 Lbs
One Serving: 2 Scoops(140g)
Servings Per Container: 53
Delivery & Returns
Spend over $70* to qualify for free standard shipping via CourierPost.
Orders under $70 are charged a flat rate of $3.99.
Bulky & heavy items are charged based on weight and delivery location.
Estimated delivery times** once your order is dispatched (Monday-Friday)
Auckland - overnight delivery
North Island - overnight delivery
South island - overnight, or 2 days with economy (for larger parcels)
Rural addresses - will take longer than the above stated timeframes
*Excludes bulky items which are charged based on weight
**During sale and holiday periods dispatch delivery will take longer with larger volumes of orders. If you need your order in a hurry, select one of our upgrade options.
No deliveries on weekends and public holidays.
---
Pace Evening Express - Auckland & Wellington
Order before 10:30 am for Wellington and before 2:30pm for Auckland deliveries Monday to Friday (excluding public holidays) and your order will be delivered between 6-9pm that evening. This shipping option will only be displayed for valid addresses at check-out.

If ordering on the weekend, your parcel will be shipped the next business day for delivery that evening. If there is no one home to sign for the parcel or it can't be left in a safe place, your parcel will via transferred to the depot for standard NZ Post delivery.
---
South Island Overnight
Order before 3:45pm to qualify. Valid weekdays, rural addresses will take longer. No deliveries on weekends and public holidays.
---
Priority Dispatch
Jump the queue and ensure your order gets packed and dispatched ahead of the pack for $10 (Sunday-Friday). Your order will be prioritised by a dedicated team member for dispatch. Delivery is via CourierPost standard delivery - signature required (this is not express shipping). This option is great during sale and holiday periods when we have high volumes of orders.
---
Click and Collect - Auckland only
Order online and collect your order from your preferred collection point. Please allow up to three working days for your order to be available for collection. We will contact you when it's ready.
---
Bulky items
Bulky & heavy items are charged based on weight and delivery location. Items such as gym equipment will be shipped via our freight forwarders and will take longer to deliver due to the size of the goods being shipped. These items are unable to be freighted via plane. Unfortunately as these are manual bookings it is not always possible to provide tracking numbers. If you require an update on the shipment of a bulky item, please contact us at sales@nzmuscle.co.nz with your order number.
---
Returns
In the event of receiving damaged, faulty (where faults not disclosed) or incorrect items, please send photos of the issue and your order number to sales@nzmuscle.co.nz within 7 days of receiving your order. Items marked Final Sale are unable to be returned.
Please refer to our Returns Policy for further information.
---
FAQs
For any other questions, please refer to our FAQs