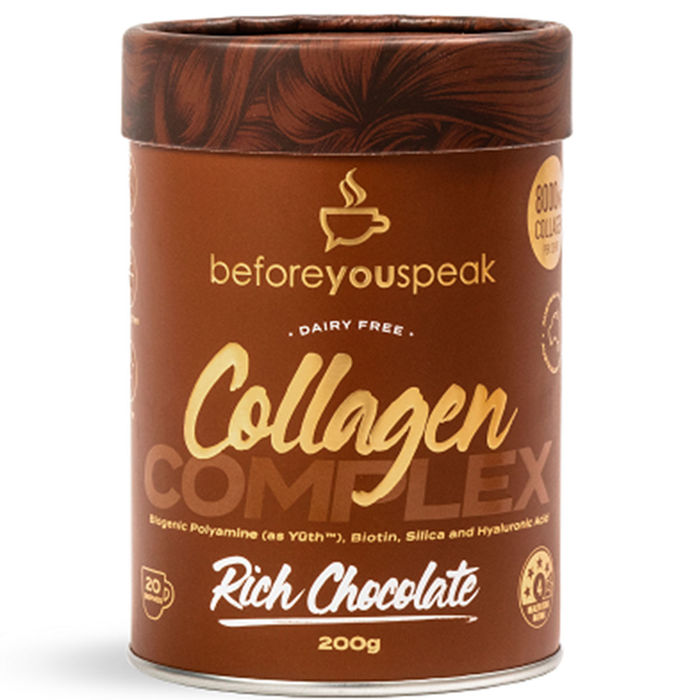 Before You Speak Collagen Complex
Before You Speak Collagen Complex
dairy free, sugar free and low calorie
Nutritional information
nutritional information;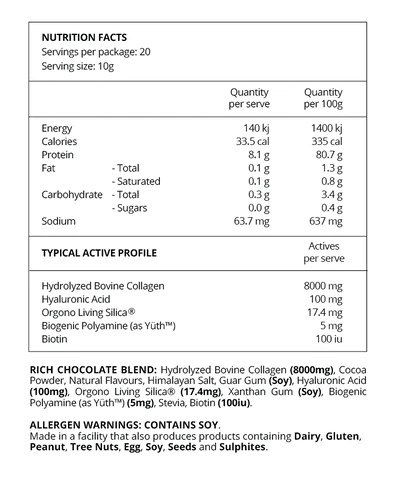 Please note: nutritional information is to be used as a guide only, actual values may differ between flavours and sizes and when formulations are modified or updated by the manufacturer. Contact us if you are have any questions regarding this products ingredients.
Product Information
Introducing the key to your Yüth! A brand new, and seriously complex blend crammed full of age-defying ingredients that tastes just as good as you'll look. Before You Speak Collagen Complex the daily habit your skin wants! A delicious and highly soluble drinking powder. whether you choose to simply mix with water or add it to coffee, shakes, or recipes, this versatile powder will elevate your taste experisnce to new heights.
Before You Speak Collagen Complex key ingredients:
Hydrolyzed Collagen
Hyaluronic Acid
Orgono Living Silica
Biotin
Why did we make Collagen Complex?
Our skin is made up of 75% Collagen, and our body's natural production of collagen declines by around 1% per year from adulthood! In addition, Collagen also makes up 90% of the protein found in connective tissue and is a key component of strong and healthy hair and nails.
Whether you're looking to step up your anti-aging routine, give your body some extra support when exercising regularly, or you just want to ditch the filter and take care of your complexion from the inside out, regularly supplementing Collagen is a no-brainer!
How can I consume Collagen Complex?
Collagen Complex is our most versatile product yet! Simply mix with hot or cold water and consume, or add it to your coffee, shakes or recipes for a punch of extra flavour ????
What does each flavour taste like?
A finely powdered, highly dissolvable drinking powder with infinite possibilities!
Rich Chocolate - A decadent, full chocolate flavour with subtle malt notes. Rich enough to satisfy your craving for a hot (or iced) chocolate even when mixed with water.
French Vanilla - A sweet, creamy and luxurious flavour reminiscent of vanilla ice cream on a hot day.
Caramel - A true caramelised confectionery creation, deliciously sweet with buttery undertones.
Choc Hazelnut - A subtle chocolate blend, slightly sweet while allowing a robust and authentic hazelnut flavour to shine through.
What's the difference between Collagen Creamers and Collagen Complex?
Our new Collagen Complex is so much more than just a Coffee Creamer. It can even be drunk as a stand alone supplement, no coffee required! Our new Collagen Complex formulation packs more than double the amount of Collagen per serve (8000mg), as well as a whole host of new and cutting-edge, age-defying ingredients. How does the taste compare? The previous Creamers were tasty, but the new Complex flavours are next level!
Why did we make the change?
The most obvious change is the packaging. We heard you loud & clear, the old tubs just weren't durable enough to survive the post! We've given the product a face-lift (but you won't need one with Complex ????), and added some tasty new flavours to the range.
As far as the blend itself goes, we went back to the drawing board to include only the most beneficial, science backed and well-rounded ingredients to ensure our products are the most effective (and delicious) on the market.
Is Collagen Complex vegan?
Our Collagen Complex range contains bovine sourced collagen so unfortunately isn't considered vegan.
Is Collagen Complex gluten, dairy and sugar free?
Yes! Collagen Complex is free from gluten containing ingredients, contains no added or refined sugar, and is a great dairy free substitute to add a dose of creamy flavour to your favourite BYS brews!
If you have severe allergies, please note that Collagen Complex is manufactured in a facility that also produces products containing Dairy, Gluten, Peanut, Tree Nuts, Egg, Soy, Seeds and Sulphites. While we take as much care as possible to avoid allergens, please chat to your GP, or contact our friendly support team for further information.
Is Collagen Complex compatible with a keto or intermittent fasting lifestyle?
With less than 1.5g of carbs per serve, every Collagen Complex flavour can be consumed within the guidelines of a ketogenic diet. As each serve of Collagen Complex contains around 34 calories and 8g of protein, it isn't advised to consume during a period of fasting.
Is Collagen Complex FODMAP friendly?
Yes! All of the ingredients in the Collagen Complex blend are considered low, or no FODMAP inclusions. As Collagen Complex is dairy free, and uses stevia sweetener, it is a great option to enhance your coffee, shakes, smoothies and recipes if following a low FODMAP diet. As always, if you have underlying health conditions please consult your healthcare professional for personalised advice before consuming.
What type of Collagen is in Complex?
Our Collagen Complex range contains only the most premium, and high quality ingredients so that you get the most bang for your beauty conscious buck.
We've included a massive 8000mg of Hydrolyzed Bovine Collagen in every serve. Bovine Collagen is a highly bioavailable and easily digested source of Type I & III collagen.
Can I use Collagen Complex while pregnant, breastfeeding?
As the Collagen Complex range contains added active ingredients, vitamins, and minerals, we do advise that all pregnant and breastfeeding Mums check with their healthcare professional before adding any of our products into their diet.
We recommend reviewing the ingredients list and information available on our website for any products you're considering to determine if the products are suitable for you.
Can I use Collagen Complex while on medication or if I have a health condition?
Although it's sometimes fun to experiment...
Make sure you chat to your health care provider about whether collagen Complex is right for you before consumption. Especially if you're taking medication, or have an existing health condition.
Delivery & Returns
Spend over $70* to qualify for free standard shipping via CourierPost.
Orders under $70 are charged a flat rate of $3.99.
Bulky & heavy items are charged based on weight and delivery location.
Estimated delivery times** once your order is dispatched (Monday-Friday)
Auckland - overnight delivery
North Island - overnight delivery
South island - overnight, or 2 days with economy (for larger parcels)
Rural addresses - will take longer than the above stated timeframes
*Excludes bulky items which are charged based on weight
**During sale and holiday periods dispatch delivery will take longer with larger volumes of orders. If you need your order in a hurry, select one of our upgrade options.
No deliveries on weekends and public holidays.
---
Pace Evening Express - Auckland & Wellington
Order before 10:30 am for Wellington and before 2:30pm for Auckland deliveries Monday to Friday (excluding public holidays) and your order will be delivered between 6-9pm that evening. This shipping option will only be displayed for valid addresses at check-out.

If ordering on the weekend, your parcel will be shipped the next business day for delivery that evening. If there is no one home to sign for the parcel or it can't be left in a safe place, your parcel will via transferred to the depot for standard NZ Post delivery.
---
South Island Overnight
Order before 3:45pm to qualify. Valid weekdays, rural addresses will take longer. No deliveries on weekends and public holidays.
---
Priority Dispatch
Jump the queue and ensure your order gets packed and dispatched ahead of the pack for $10 (Sunday-Friday). Your order will be prioritised by a dedicated team member for dispatch. Delivery is via CourierPost standard delivery - signature required (this is not express shipping). This option is great during sale and holiday periods when we have high volumes of orders.
---
Click and Collect - Auckland only
Order online and collect your order from your preferred collection point. Please allow up to three working days for your order to be available for collection. We will contact you when it's ready.
---
Bulky items
Bulky & heavy items are charged based on weight and delivery location. Items such as gym equipment will be shipped via our freight forwarders and will take longer to deliver due to the size of the goods being shipped. These items are unable to be freighted via plane. Unfortunately as these are manual bookings it is not always possible to provide tracking numbers. If you require an update on the shipment of a bulky item, please contact us at sales@nzmuscle.co.nz with your order number.
---
Returns
In the event of receiving damaged, faulty (where faults not disclosed) or incorrect items, please send photos of the issue and your order number to sales@nzmuscle.co.nz within 7 days of receiving your order. Items marked Final Sale are unable to be returned.
Please refer to our Returns Policy for further information.
---
FAQs
For any other questions, please refer to our FAQs